A loyal dog has been patiently waiting for over a week for his owner's return, sitting at the side of a remote mountain road while enduring extremely cold weather, snow and rain.
The abandoned dog was first spotted by an elderly couple in their 70s while they were out driving on December 4 in the city of Iida, Nagano prefecture, in Japan. The dog was out front of a vacant lot roughly 1000 meters above sea level.
"He may have strayed too far from his master," commented the couple who first sighted the light-brown dog, "but if he's simply been abandoned, wait as he might, his master almost definitely isn't coming back. I feel so sorry for him; he must be hungry."
They said the dog was lying down looking downhill at the long stretch of road in front of him.
The dog may have been a hunting dog and is clearly emaciated. His health is deteriorating, no doubt from the harsh elements and lack of food. Animal lovers who have learned about the dog's plight are likening him to another faithful Japanese dog, Hachikō.
It has not yet been reported if the dog has been rescued from his sad vigil. I will try and update the story if more details emerge.
---
Update December 15, 2012:
According to Tokyo Shimbun, this faithful dog was finally rescued by a local animal shelter.
The dog had no collar and no means to identify his owner, however he seems to have been well looked after. Despite being is too thin, he is in fairly good health.
The dog's owner has until December 24th to claim him, otherwise he will go up for adoption to a new forever family.
---
Update June 12, 2013:
Over 60 families applied to adopt this loyal dog and after reviewing all of the applications, one man, who lost his beloved dog last year, was chosen.
Here is a photo of the dog looking much more healthy after receiving care from the shelter.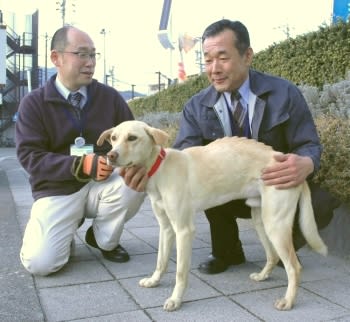 Thanks to Sashi Tada for this update!

Related: